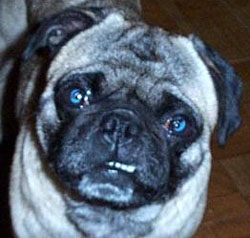 Doug (2003)

A Pug (or any animal) is a living, breathing creature, not a toy to be given as a gift. It is never a good idea to 'give' a dog or any living animal as a present to someone. Opening up your home to an animal should be a well thought out, planned choice with everyone in the household in full agreement. When you open up your heart and your home to an animal, it should be for the life of the animal, which may be 15 years or more. If the recipient of the animal who is going to have the responsibility of caring for it is not a part of the decision, it is less likely to be a lifetime decision.

Reputable breeders and rescue groups will not adopt to people who are looking for an animal to give as a present. But there is an alternative! You can still give the gift of love to someone.

How about giving that special someone on your list a gift certificate to pay for the adoption fee for a Pug? You can make up a gift certificate for the amount you will pay and put together a little 'welcome' package for the new family member. You can add things such as water and food bowls, toys, treats, leash, harness, stain or odor remover, or perhaps a gift card for a pet store where they can purchase needed items. Not only are you giving a gift that day, your loved one will have another day of joy when they finally welcome the new pet into their home. Not many people give a gift that will be received twice and loved for a lifetime.

Does someone on your gift list have everything they need? Then consider making a donation to rescue in their name. What a great feeling it is to know that a gift has been made in your name to help a homeless, abandoned or abused Pug! This is truly a gift of love that will make a difference in the world of a Pug.

Consider Ohio Pug Rescue for your holiday or other gift-giving occasions.
---
Please note that the recipient must first apply and be approved. They are not automatically guaranteed receiving a pug. All adoption procedures apply.
---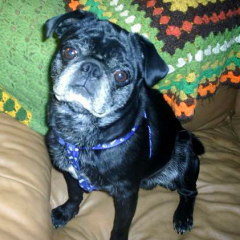 Pierogi (2007)
For information on the adoption process please contact our Adoption Coordinators.
Usual adoption procedures apply and can be found on our Introduction & FAQs pages.
A letter will be sent to the recipient telling them of your gift.
Donor/Billing Information